| | |
| --- | --- |
| I was asked to come on board for the 1995 Brisbane International Film Festival while I was recovering from my first Brisbane Biennial. BIFF's Marketing consultant needed some hard-hitting publicity in the month leading up to the festival and she'd seen the phenomenal job I'd done with the Biennial, so she enticed me away from my R&R in Byron Bay and I launched into my first film festival. | |
It was the fourth BIFF, and as the baby cousin to the older, established and sometimes stale Sydney and Melbourne film festivals, the Brisbane event attracted optimism and enthusiasm from the media. I enjoyed working with the national film journalist contingent, and also continuing my relationships with the national arts media and Brisbane entertainment press, already forged through NORPA and the Biennial.
| | |
| --- | --- |
| | Artistic Director Anne Démy-Geroe made an immediate impression on me as someone with great vision who needed someone like me to help her articulate it. We hit it off immediately. |
Films I publicized in the 1995 BIFF included The Usual Suspects, Smoke, The Brothers McMullen, The Pompatus of Love, Burnt by the Sun, Carrington and Angel Baby. The program had a hefty Asia-Pacific focus, as Anne's direction always took into account Brisbane's geographical location. There was also a segment in the program honouring the 50 years since the end of World War II in the Pacific, with classics like The Bridge on the River Kwai and They Were Expendable being screened. Then there was the celebration of the centenary of cinema which included classic films by Charles Chauvel (Jedda) and Raymond Longford (The Woman Suffers).

I learned a great deal about film and the way film festivals are structured during my whirlwind four weeks on the 1995 BIFF. I had loads of fun, too.

Supervising media on Opening Night
outside the cinema

Channel Nine's Tony Biancotti with Debbie
on Opening Night
Program consultants to the Festival were my old mate from Variety, David Stratton, best known as co-presenter of SBS Television's The Movie Show, and Hong Kong-based writer and academic Tony Rayns.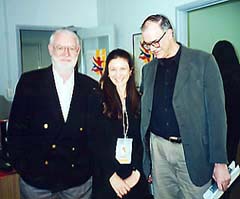 Like the Biennial before it, the Brisbane International Film Festival was a critically acclaimed but under-exposed event prior to my involvement. In four short weeks I dramatically increased media and public awareness of BIFF, and it was a natural step to ask me on board for the 1996 BIFF.