Northern Rivers Performing Arts was founded by Lyndon Terracini in Lismore in 1993. Lyndon was, and still is, a visionary, and he first brought NORPA to the public's attention in a major way when he produced and directed a stage adaptation of Peter Weir's groundbreaking film, The Cars That Ate Paris in December 1993. It wasn't really a stage production as such; it was in fact performed on the streets of Lismore with live stock car racing and assorted spectacular effects. Lyndon, already an internationally renowned baritone opera singer, had now made his mark in a new way. You can read my review of it here.

So when he urged me to start a PR business and signed me up straight away to publicise his 1994 NORPA Subscription Series, I was thrilled.

Working with Lyndon and NORPA was a brilliant beginning for Kruger PRofiles; I'll always be grateful that he gave me the opportunity to work with him on a project that propelled my PR career to great heights.
My brief from NORPA was to launch its subscription season and then obtain local and national coverage to give the regional organisation exposure that would attract audiences and future sponsorship. I would like to say that my achievements in this campaign surpassed Lyndon Terracini's wildest dreams, but Lyndon is a man whose dreams are wilder and whose expectations are more demanding than just about anyone I have worked with. However, I can say that I was able to gain more media coverage for NORPA than any other regional arts organisation had achieved anywhere in Australia to date, and I certainly exceeded my own expectations for my first major Kruger PRofiles campaign.

At the NORPA 1994 Subsciption Season launch
L-R: Liza Lim, Lyndon Terracini, Anthony Steel,
Wayne Harrison

Our Season Launch in April 1994 attracted major Arts figures from around the country, including Sydney Festival Director, Anthony Steel, and Sydney Theatre Company Director, Wayne Harrison. Wayne, an old friend and my first career mentor, was happy to fly into Lismore especially for the event. His production of Two Weeks with the Queen was touring to Lismore and opening NORPA's season, and also Wayne was keen to support my first major PR endeavour.
I also lured representatives from the major national and metropolitan Arts press, who loved the idea of coming up to Lismore for the day to report on such innovative regional Arts programming. Composer and jazz pianist Paul Grabowsky, Artistic Director of the Australian Art Orchestra, performed for the guests in one of Lismore's finest restaurants.


Wayne Harrison with Debbie at the
NORPA 1994 launch
NORPA's 1994 season was ambitious and audacious. It had a Shakuhachi player, Riley Lee, the Bharatam Dance Company, the Australian Art Orchestra, plays by Fyodor Dostoevsky and Janis Balodis and more.
| | |
| --- | --- |
| The events that really got the national press clamouring were a new production of Jack Davis's play No Sugar directed by the late Bob Maza; an adaptation of Franz Kafka's novella Metamorphosis combining music, dance, theatre and visual art... | |

NBN Television's Bruce McKenzie on the beat, interviewing Liza Lim and Domenico de Clario on the set
...and an installation-performance piece called Bar-do'i-thos-grol - based on the Tibetan Book of the Dead - set in an auto and house wrecking yard over seven consecutive nights, with music by Liza Lim, performed by the Elision Ensemble, and installation by Domenico de Clario.

By the time Bar-do'i-thos-grol came around, we had the national television Arts shows knocking at our door. The most fun I had was working with the team from the SBS program Imagine.
| | |
| --- | --- |
| SBS producer Moshe Rosenzweig with Debbie | Debbie doing the PR thing with SBS's Paul McGillick and Margie Bryant |
| | |
| --- | --- |
| Elision, whose artistic director is Daryl Buckley, husband of Liza Lim, is a wonderful contemporary classical music ensemble, and one of the many happy offshoots of my NORPA success was obtaining fantastic media coverage for Elision as well. | |
Of all the media who supported NORPA's 1994 season, none was as responsive and enthusiastic as freelance journalist Jo Litson, who placed stories on NORPA, Lyndon Terracini and Elision in publications including The Australian, The Bulletin, Vogue, 24 Hours and she even got Lyndon a mention in Mode magazine's "Culturally Rich List" for 1994!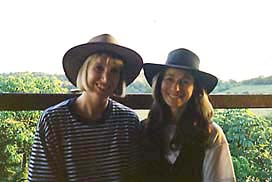 Jo Litson with Debbie in Byron Bay, April 1994
NORPA continues to present and produce quality Arts programs for the NSW Northern Rivers area and now tours its productions beyond the local region. Lyndon Terracini is no longer at the helm but he now directs the Queensland Biennial (which metamorphosed from the Brisbane Biennial, another of my major clients). You can check out what NORPA is up to this year by going to their website.

I was fortunate to work again with Elision on the Biennial International Music Festival in 1997, which you can read about

here

. And you can find out more about Elision at their own website.