MELBOURNE WEEKLY BAYSIDE MAGAZINE
July 14-20, 2004
ONCE MORE WITH FEELING

Deborah Conway has weathered the ups and downs of a fickle industry and these days is finding a happy harmony between family and fame.
Debbie Kruger shares a domestic moment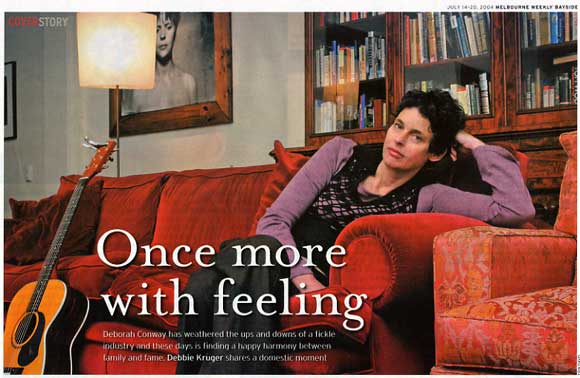 It's a curious thing, the attitude to rock stars growing up. Authors, filmmakers, painters and classical musicians are allowed to age gracefully and it's acknowledged that they often make their greatest and certainly most thoughtful work in later years. Rock music is a different beast, the most ageist of businesses, and Australia's mature rock and pop artists face a constant battle with radio, record companies and the public's perception of who they are and what they should be doing.

Take Deborah Conway, singer, songwriter, most famed for the feminist and political angles of her early work with rock group Do Re Mi. While she is justifiably proud of her first hit, "Man Overboard," with its provocative lyrics and unconventional song structure – no chorus, for example – the music she is making today, from her St Kilda home base, is worlds away from the angst she revelled in for many years. Formerly the "angry young woman" of Australian rock, the 45-year old mother of three has mellowed.

On a Monday evening in the large rambling house with bay views that she and her family have been sharing for over a year with film producer Bob Weis, Conway's three young daughters, with long, thick, dark curly hair cascading over matching hot pink dressing gowns, are giggling and doing their best to avoid bedtime. The adults are eating dinner – one can't talk about music and songwriting on an empty stomach – and Conway's reputed feisty nature is tempered by more familial concerns.

There's no escaping her luminous beauty, but in spite of glamorous album covers and videos, Conway has never really traded on her looks. She's too authentic for that, and the content was always more important than the packaging.

After leaving the fierce Do Re Mi in the late 1980s, she continued to explore the darker, moodier, more earnest side of her musical life in her solo albums. First with her Do Re Mi colleague Dorland Bray and then with her husband and musical soul mate Willy Zygier, Conway has collaborated on songs that have been confronting and, by her own admission, at times "bloody depressing". This is the artist who, after all, named one album Bitch Epic, and another – made with her first and only husband to date – My Third Husband.
Her first solo hit, 1991's "Only The Beginning," an upbeat, optimistic take on love and life, co-written with a Los Angeles writer whose great uncle was Irving Berlin, was an uncomfortable fit for Conway. When she first took the song home, she felt embarrassed by it. "It's so happy, I can't cope, what am I doing?" she lamented to her former Do Re Mi partner, Bray. Together they rewrote the song. "I tried to cloak it, disguise its happiness," Conway recalls. But she finally gave in to joy in that instance. "The recorded version is the original lyric without the de-happifying of it."

The song became a huge hit, and to this day it's the only Deborah Conway song commercial radio will play regularly. "It's fantastic that they like the song. It's great, and one would never want to decry the fact that one had a hit record and went on to win ARIA awards and whatever. People would put you in a cherished place on their record shelves and in their hearts with this one song, and play it at their weddings, and all that stuff. It was really important to some people.
"But at the same time it had a kind of fossilising effect on my work. It does tend to set you in jello. This is what Australian radio is, and there doesn't seem to be a place to play new things. It's hard," Conway says and then shrugs, "But I can see that I haven't really made it easy for them. I've been difficult. I've put out difficult records."

Ironically, Conway grew up listening to her father's albums of show tunes, singing Barbra Streisand, Shirley Bassey and Judy Garland standards in the shower as a nine-year old. Later she discovered Joni Mitchell and Bob Dylan, but their influences didn't show evidently in her songwriting until she went introspective in her thirties. In between there was the punk and post-punk period of music that she threw herself into. "During the punk period it was deeply unfashionable to be able to sing in tune," Conway reflects. "And I ended up joining a band where all of their pedigrees were punk. I was listening to Barbra Streisand and Julie Andrews – what right did I have to be there?"

Her compelling mezzo voice made her one of Australia's most formidable female singers, but later she used production tricks to distort and compress her voice, such as on the 2000 album Exquisite Stereo, harking back to that idea of a good singing voice being uncool, not hip. "I didn't like the quality of my voice in Bitch Epic. It was so big and powerful and brassy. That was a lengthy period when anti-singing was like a mark of sincerity or something. If you couldn't sing you really meant it, but if you sang well, there was something else going on, there was something not quite honest about it. Like Joy Division's Ian Curtis or Susi from the Banshees. Huge numbers of singers were treasured, and because they couldn't sing there was complete transparency between the singer, the audience and the song and the sentiment."

But the real voice still shone through. After taking a break from her own music to get inside the skin of another chanteuse in the stage musical (and subsequent recording) Always – Patsy Cline, Conway put together a greatest hits collection of her work, Only the Bones, and then drew a line, as many mature artists do, from which she could move forward, redefined.

Her new album, Summertown, is significantly credited to Deborah Conway and Willy Zygier, her long-time collaborator in life and music sharing equal billing, although it's Conway's distinctive lead vocals that still dominate the record. A shimmering collection of songs that reflect down-home harmony and grown-up love, Conway describes the music as having "a certain gentleness and warmth that we hadn't explored. We've been angst, brittle, pissed off and depressed – let's give peace a chance."

She also allowed herself to be surprised as the songs took form; the original concept for one song, "Stay on Track," that was intended to be piano-based fell away due to the players and instruments available. Mandolin, charango and cittern took over. "Suddenly it sounded like a completely different thing than what I'd envisaged," Conway explains. "And it was light and it was whimsical and serendipitous and very beautiful. And it was surprising for me. I love to be surprised. I had to go and pick up the kids from school and I came back the next day and my god, listen to that! That's not how I'd imagined it sounding at all, but this just sounds fantastic. And it has very little piano on the track."

Relinquishing some control, allowing things to flow organically, made for a fertile period of creativity, especially in the writing process. For an artist who says that she usually filters things for a long time before they take shape creatively, there was a happy immediacy in writing the songs for Summertown. "Things would happen and I'd be writing about them the next day, furiously, which I've never done before."

"Accidents Happen In The Home" relates "a true story of hapless occurrences on the Queen's Birthday 2003," Conway says. "Still, from adversity can come a three-minute pop song."

Conway and Zygier find living together, raising children and making music is a potent combination and for the most part harmonious. They will talk about songwriting while they are cooking dinner, and talk about parenting while they are writing songs.

"In order to write with someone you have to be able say, "Look, that's f***d." And not take it personally. You have to have established a close relationship with someone in order to expose yourself in that way. Because it's like taking off your clothes; it's more intimate. You're exposing your deepest inner core. And you have to make sure the person you're exposing it to is going to take care of it and be gentle with it."

Having made music and written songs in different parts of Melbourne and in Sydney, London and Los Angeles, nothing was quite like the experience of writing this album in St Kilda. "It's such a beautiful spot," says Conway, "It's historical and it has that air of holiday about it. The seaside atmosphere influenced the music, how could it not? You're confronted by it as soon as you walk out the door."

The Bayside area and its people pervade the album, which features a duet with fellow St Kilda resident and singer-songwriter, Paul Kelly. The house-share situation – a long-term temporary stay with Weis while Conway and Zygier's own house nearby is in renovation mode – added to the holiday feel. "The suspension of reality being in that house was really nice and freeing, because when reality is kept at bay there's more creative current."



Summertown is due for release on August 9.

• Debbie Kruger is a Sydney-based writer whose book on Australian songwriters will be published next year.


Thanks to the Melbourne Weekly Bayside Magazine for supplying images for this page.