The sixth Brisbane International Film Festival, in 1997, was my last in a great three year run. With 150 films over 11 days, we showed that BIFF had really come of age.

Coming on board in Marketing and Promotions was Trena-Louise Lyons, who decided angels' wings could best describe the theme of "Inspiration... Imagination." The program certainly was inspirational and imaginative, and as in the previous two years, I totally loved working on BIFF.
As always, Artistic Director Anne Démy-Geroe had put together a brilliant line-up of films, starting with the Australian premiere of The Full Monty, and taking audiences through segments including a Dennis Hopper retrospective, a focus on Japanese Independent Filmmakers, new Australian films such as Kiss or Kill, The Well and Doing Time for Patsy Cline, and an international slate that included Peter Fonda in the wonderful Ulee's Gold, the intriguing French film Irma Vep starring Chinese actress Maggie Cheung, and Kevin Spacey's directorial debut, Albino Alligator.
The guest line-up was impressive and challenging for me as publicist to ensure they were all available for media and each given maximum coverage. Kevin Spacey was coming, Maggie Cheung - a huge star in Chinese cinema - was coming; we had directors Bill Bennett, Samantha Lang and Chris Kennedy, the cast of Doing Time for Patsy Cline and, as our Chauvel Award recipient, the Oscar-winning cinematographer John Seale was joining us.

The whole Festival totally excited me!
Opening Night was all angels, fairies, red carpet and laughs, as Australians got their first look at what would be a huge hit worldwide - The Full Monty.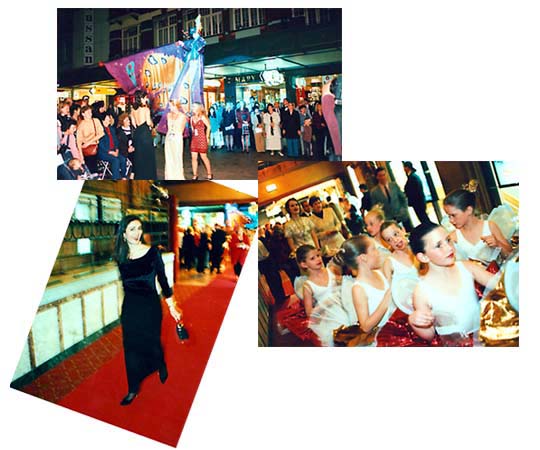 | | |
| --- | --- |
| The first big Australian film of the 1997 BIFF was Bill Bennett's romantic thriller Kiss or Kill. Bill, a filmmaker I had admired for some 20 years - since his days as a reporter for Mike Willesee's current affairs TV program - was fun to work with and had a great sense of humour. I was glad that the film went on to become a success on the international scene. | |
Maggie Cheung was a real hit with the media, an incredibly down to earth person who appreciated that being a huge star in her own culture didn't mean she could make assumptions in a country like Australia. Fortunately most of the film journalists knew their stuff and conducted interesting interviews with her.

There are a lot of websites dedicated to Maggie Cheung. If you want to find out more about her, start here.
A major highlight of the Festival was the Chauvel Award for distinguished contribution to Australian filmmaking. For the first time this award went to someone not primarily known for directing. Cinematographer John Seale, a Queensland boy like 1996's Chauvel winner George Miller, was still buzzing from his Oscar win earlier that year for cinematography on The English Patient. It was his first Oscar, but his third nomination, having been acknowledged previously for his cinematography on Witness and Rain Man.

David Stratton waxes critical with fellow film scribe from The Australian, Lynden Barber, at the
Chauvel Award dinner

John's work as camera operator on Peter Weir's earlier films - Picnic at Hanging Rock, The Last Wave, Gallipoli - led to DOP work on an impressive list of films in the past two decades, including Gorillas in the Mist, The Mosquito Coast, Dead Poets Society and The American President. His most recent cinematography work can be seen on Harry Potter and the Philospher's Stone.
John is one of the nicest guys a publicist could ever hope to work with. The media really loved the attention we were giving him, too. The Chauvel Award presentation included the obligatory Q&A session with David Stratton, followed by a swish dinner.
Towards the end of the Festival we had the delightful and very cool Kevin Spacey to present his first film as director, Albino Alligator, starring Faye Dunaway. We took Kevin out for dinner the night before and he was great company, and then he equitted himself beautifully at the press conference I set up for him the next day.

Being the cool guy he is, Kevin Spacey has a cool website called Spaceyland. Worth a look.
Our Closing Night film, Doing Time for Patsy Cline, gave us the opportunity to invite everyone to a country and western-themed party afterwards. A perfectly yee-ha way to conclude an amazing 11 days.


Doing Time for Patsy Cline stars Miranda Otto, Richard Roxburgh and Matt Day sit out the screening.


4KQ's Laurel Edwards, her husband country crooner Troy Cassar-Daley, and your truly in full C&W garb
I stopped working for BIFF after the 1997 Festival because the following year I went to live in Los Angeles, and when I returned to Byron Bay in 1999 I decided that I no longer wished to commute to Brisbane for my work. But I treasure my three years with BIFF and am always heartened to hear from its General Manager, Gary Ellis, "Nobody can write a press release like you, Deb."

Here are some of the BIFF team from 1997: