| | |
| --- | --- |
| Okay, so I was a doll. What can I say? I had very good looking parents. Like most Australians of my vintage, I came from a European background. My mother was a young and beautiful Romanian-born, American-raised girl still a teenager when she married my father. He was a debonair English man who had migrated to Australia in the late 1940s. He was the youngest of seven siblings, which made for many aunts and uncles and cousins in the UK, mythical figures in my life until I ventured into the world to meet them. But that comes later, and is covered in the Jetsetter section. Let's stick with Young Aussie Deb here. | |

Lisa, Paula, Debbie and Lou Kruger, circa 1966

Here's the little Sydney branch of the Kruger clan in our first house in East Ryde. We lived in a newly developed residential area called the Dress Circle Estate. Each street was named after a famous Australian stage or film performer. We were on McCallum Avenue, named after John McCallum. Surrounding streets included Rene Street (Roy Rene aka Mo), Pate Avenue (Michael Pate) and Melba Drive (Dame Nellie, but you knew that). We had good friends on Finch Avenue. Oscar-winning Peter, of course.
I do wonder, sometimes, given the fact that my entire career has been based in the entertainment industry, whether my early location wasn't quite portentous.
| | |
| --- | --- |
| We were part of a new wave of Jewish families on Sydney's north shore who had founded a new school, Masada College, in Lindfield. I started attending Masada Pre-school Kindergarten when I was three, and showed such amazing aptitude, such obvious early genius, that I was invited to go upstairs to the "big" school when I was only five years old. I remember well the day my fellow genius of the kindy, Jonathan Caplan, and I walked up that intimidating staircase. As a result, I was always the youngest (or second-youngest) child in my year throughout my 12 school years. | First day in school uniform, 1968 |
This is the first batch of Masada students, from First Grade to Fifth Grade (before there was anyone in Sixth Grade). The photo was taken in 1969 with teacher Miss Sheard. A lot of the children in this photo are still in touch with each other as middle-age adults. If you can recognise me in this photograph please keep it to yourself!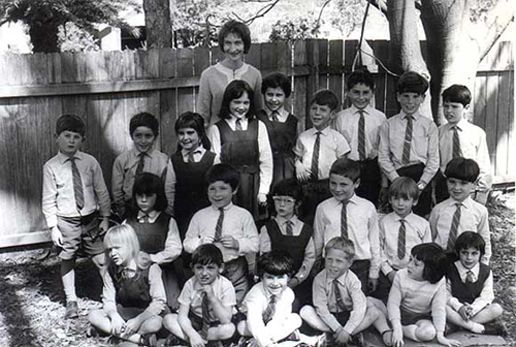 | | |
| --- | --- |
| Little girls dressed for Purim, 1971 | Most interestingly, I had no idea that my schooling, and my life, was quite different to most kids my age in Sydney in the late '60s and early '70s. Starting and finishing each day with bible (Torah) classes spoken only in Hebrew, having only six or seven children in my entire grade, being in combined classes with team teachers, having extra holidays for religious celebrations... that was my normality until the age of 11. |
| | |
| --- | --- |
| Masada College was quite a liberal and progressive school, remarkable considering it was attached to a fairly orthodox synagogue. This picture of our teacher Mr. Levine teaching a class of mixed grades circa 1971 was taken by a John Fairfax photographer, so I assume it must have been for a story in the Sydney Morning Herald. I'm second from the left, and two kids to the right is fellow genius Jonathan Caplan. | |
"Who will buy this wonderful morning?"

Every December Masada students performed a grand show. In 1970 it was The Mikado. In 1971 Fiddler on the Roof, in 1972 Oliver!, and in 1973 we did Joseph and the Amazing Technicolour Dreamcoat. I was never picked as lead; that always went to Rachel Ehrlich or Shooshi Dreyfus - or both.
In this scene from Oliver!, above, I am at the far left, asking who will buy my sweet red roses, two blooms for a penny. Either that or I was selling ripe strawberries ripe. I can't actually remember. But Shooshi, far right, was definitely singing her little heart out as Oliver.
Meanwhile outside of school hours my dear mother was dressing me in some, shall we say, questionable clothes. While I was favouring the soft gypsy look with fashionable lace-up boots, depicted in the black and white photo on the left, or the expressive colours of my 10th birthday outfit in the centre photo, my mother returned from a 1972 overseas trip with dresses for me such as the one on the right. And now, 30 years later, she wonders why I have an unending fixation with all things American. Go figure, as they say.
| | |
| --- | --- |
| | Sydney was growing up, and getting dressed up, too. The Sydney Opera House opened in 1973 and we paid our first visit there around the time I got an unfortunate short feathered hair cut. This shot is about the closest you'll ever get to seeing the hair cut — or the tie-dyed t-shirt I was so fond of wearing that year. |
Actually, I tell a lie, because I'm sporting the hair cut in this school photo from 1973, my last class shot at Masada College. Can you find me? Along side a future entertainment writer, PR whiz and broadcaster is a future feature film producer, a future author, some kids I seem to have lost track of, and some who turn up out of the woodwork. Glad to be back in touch with Desiree, especially.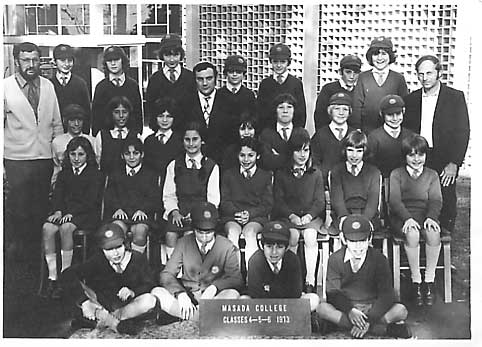 Masada College had no high school in 1973 when it was time for me to choose where I would go for my secondary education. So it was a choice between the Jewish private school Moriah College in Sydney's Eastern Suburbs – in those days a daunting commute for an 11-year old – or the local non-denominational public school, Killara High School, a short bus trip and a whole new life away. I leapt onto that bus and never looked back.

Masada eventually built a high school and is now one of the leading private schools in the state of NSW. Some of the kids I was at school with in the early '70s now have kids of their own attending Masada. You can check out the Masada College website.

After many many years of hoping that someone would organise a reunion of the early students of Masada College, it finally happened in November 2007. Click the photo below to find out all about it.

You can track down old school friends at Masada or wherever you might have attended primary school in Australia by registering at SchoolFriends.com.au.

Now it's time to hop on that school bus with me, click on my charming (not) school photo at right, and take a look at my most formative days at Killara High School.