**Copyright notice**
It's NOT okay to use images from this page on other websites or social media without my permission.



Before I worked in the music industry, one could say that I worked the music industry. Being a devoted fan, frequent concert-goer, active radio listener, and collector of promotional posters, it's surprising I found time to do so many other things as a teenager, like attend school, write books and hang out with friends. But in those halcyon responsibility-free days, all things were possible, including taking photos at rock concerts with a 110mm camera. Here's a little trek down my musical memory lane, and a few links to more recent music events in my life.
| | |
| --- | --- |
| Welcome to the bedroom of Debbie when she was living in the 70s. Then as now, I was immersed in music. With my stackable mono record player, Linda Ronstadt-style tambourine and endless supply of promo posters from the Sound Advice record shop in Chatswood, on Sydney's north shore, I had my own little shrine to the gods of my cultural universe. | Thankfully most of these Chicago posters have survived, as have the Eagles Hotel California and LRB Diamantina Cocktail posters. The Heart Dreamboat Annie poster is also still with me but, alas, faded beyond hope. |
| | |
| --- | --- |
| Oh how I wish I still had my Linda Ronstadt Simple Dreams poster. I believe my sister stole it on one of her many raids on my bedroom. | It was only in 1972 that I was hiding in my room practicing "Tie A Yellow Ribbon Round the Old Oak Tree" in the hope of singing it on Young Talent Time one day... Within four or five years I had moved on from the genius of Tony Orlando to Chicago, Eagles, Linda Ronstadt, Heart, Little River Band and Sherbet. Not to mention the sad little period when I was into British glam rock and bubblegum. 1975 was a very good year for Sweet and the Bay City Rollers... what can I say? |
I always feel sorry for people who tell me they didn't experience their first pop or rock concert until they were in their late teens. My first concert experience was inglorious, by my own admission, but at least I had it when I was 13. For the princely sum of $6.60 including booking fee, my friend Alison and I each bought tickets to see the Bay City Rollers at the Hordern Pavilion on 6 December 1975. I no longer have the ticket, nor the tartan scarf I bought under pressure from Alison, who was dressed in the full Rollers garb, but I remember clearly Ian Meldrum's introduction, Andy Gibb's support performance, Woody's absence due to a bad cold, and the short 20-minute set that left me and Alison less than impressed. Such was my first concert experience. I took down the larger-than-life Eric poster from inside my wardrobe door and, undeterred, set my sights on loftier heights for concert no. 2.
The Queen concert on 17 April 1976 was only 20 cents more a ticket, but musically and theatrically it was a million bucks ahead of the Rollers or anyone else in town at that time. (We won't even go into why I didn't see the Eagles play when they hit town in January 1976. No, really, I don't want to go there.)

This was the tour to support the A Night At The Opera album and the success of "Bohemian Rhapsody." It was before Queen became a major stadium act – they hadn't even broken in a big way in the USA at this point – and seeing Freddie and the boys so close up and raw is something that I will never forget. And I was stiill only 13.

Queen in Sydney, 1985

By the time Queen returned to Sydney the tickets were $22, the venue had moved to the Entertainment Centre, the performance was stadium-style, but the guys were more brilliant than ever. This was on 25 April 1985, only three months before they stole the show at Live Aid, and the last time Queen came to Australia.
Having become an intrepid adult music fan by this stage, I turned up at the Sebel Townhouse after the show and was able to chat with Roger Taylor and John Deacon in the lobby for a while. Their autographs were the last ones I collected in my autograph book. In the years that followed, once I was working in the industry, it was most uncool to collect signatures in an autograph book, and the only way to get a scribble from a musician was on their CD cover.

But back to the 70s...
Sherbet was Australia's top pop group in the 1970s, with a fan base largely made up of teenage girls, of which I was one. Unlike my friend Robyn, who covered every inch of her bedroom walls (and it was a large bedroom) with pictures of Sherbet, I saved my adoration for the concerts. I was one of the few Sherbet fans I knew, in fact, who never met the guys during their heyday.

Sherbet did a number of free concerts during the '70s, which I deal with on my 2SM page, but I was more than happy to fork out the $6.90 or thereabouts to see them in the comfort of the Hordern Pavilion, State Theatre or Regent Theatre, where it was easier to get close and take pictures.
| | |
| --- | --- |
| Tony and Daryl, December 1976 | Daryl and Garth, December 1976 |
Sherbet had the best tour books of any group around in those days, local or international. The "On Tour" book, written about the band's "Around Australia in 80 Days" tour, sold at newsagents and apparently was the biggest selling book on a pop group in its day. Written by journalist Christie Eliezer, I digested every word in order to get to know the boys as intimately as I could considering I could never really get to know them. Christie, now Australia's scribe for Billboard and a good mate, reluctantly signed the book for me in January 2002, saying he reckoned Skyhooks was a better group.
The "World Photo Album" book covered Sherbet's first big overseas trip in 1976 and had some really brilliant photos. I almost didn't need to meet the guys, because I felt they were writing all this down just for me, just so that I could get an insight into their thoughts, their feelings, their true selves. It was also a good insight into some of their roadies, like infamous tour manager Howard Freeman, and lighting designer James P Murrie (who ended up moving to Lismore and becoming a teacher of jive dancing - truly!).

In 1977 Sherbet went back overseas and – other than a quick trip home over Christmas/New Year to see family and do free concerts for 2SM and 3XY — stayed away for a year. When they returned, Daryl had a beard, Tony had tamed the afro, and the music sounded all grown up. The "Another Night on the Road" tour was in smaller venues than previous tours, and more musically satisfying, although the guys seemed frustrated that the fans still wanted to scream and hold up signs saying "DARYL U SPUNK" rather than listening to the lyrics of songs that they had sweated over in Canada and California. This was the period that produced my favourite Sherbet song, "(Feels Like It's) Slippin' Away."
| | |
| --- | --- |
| Sherbet... all grown up. September 1978 | Garth – Adonis on the keyboards |
Sherbet eventually lost its fizz, and by the end of 1979, although they were the headline act at 2SM's Concert of the Decade, they were finding it hard to hold on to their market. Their fans were growing up – I had done my HSC and was going overseas – and bands like Misex, Cold Chisel and The Angels were in charge. Music had moved into the pubs, and Sherbet were never going to be that kind of band.

They metamorphosed as Sherbs, replaced their lead guitarist, and put out a couple of albums that they felt were their best work, and no doubt there were some good songs there, but I kind of lost touch with them, as did Robyn and most of the other Sherbet fans who had been screaming at the Hordern Pav and Victoria Park with me. Actually, I was never really a big screamer, except for that long pause in the middle of the first verse of "Howzat," which Peter Dixon's shoulders and neck can attest to.
I was in my third year of my BA at university, doing Honours in English, and working part-time in a shoe shop, when I learned that the boys had reclaimed their original moniker of Sherbet and were regrouping with original guitarists Clive and Harvey to stage a reunion/farewell forever tour of clubs around the east coast of Australia.
I went along to the Chevron Hotel on 19 February 1984 and was transported back to my crazy teenage years. There they were, doing "Cassandra" and "Slipstream" and "Free The People" and, of course, "Howzat." And although the room was packed to the rafters, I was able to position myself at the very front of the stage, beneath Daryl's microphone. I felt like I had died and gone to heaven.

In the weeks that followed I led a strange double life. As Daryl put it, when we started having long conversations backstage, I was "doing Shakespeare by day and Sherbet by night." I started following them around on all their Sydney-area dates, in some venues I would never otherwise have visited. It was at St George Sailing Club that I finally met the guys, going down to their band room after the show for autographs and quick chats. And it was at Balmain Leagues Club on 9 March that I made my stage debut with Sherbet, singing backing vocals on "Howzat."

My debut
Balmain Leagues, March 1984


Deb's tambourine put to good use
Blacktown RSL, March 1984

Deb on bvox and tambo.
Not the best angle of me or Harvey, but that's showbiz.

After that it was me or my tambourine or both on stage at various shows. Blacktown RSL, Sheila's Tavern... I sure have played the top spots. I guess the guys thought I was a passable performer and enjoyed the novelty of it, and for my part, I was totally thrilled to finally be getting to know the guys who had so captivated much of my teenage years, and now at a time when I could have more adult conversations with them!

There were some interesting adventures during those Sherbet-obsessed couple of months and I met some very interesting people. It will all be in the memoirs, I can assure you!
I even kept a bit of a journal during that time, sensing that this was a period in my life I might want to remember in minute detail. The conversations with Daryl and Tony and Garth were recorded quote by quote. Garth had always been my favourite member of Sherbet and hanging out a bit with him was very special, but years later when I interviewed him for an article in The Australian, I hoped he would not remember me from those mad days on the farewell tour. It was only recently, when I spent time with him in Tamworth for the country music festival and in subsequent meetings through my job at APRA, that I told him in what circumstances we had first met. It took him a while to get really comfortable with his Sherbet legacy, and it takes a while for us all to be unselfconscious about some of the daggier aspects of our past. I, of course, have always freely worn my dagdom on my sleeve!


Daryl and Deb doin' "Hound Dog"
at Sheila's Tavern
Back to 1984, and that farewell tour wound up at an inauspicious venue, the Rosebud Soccer Club outside Newcastle, on 21 April. By this time I had become pals with the crew, girlfriends, and regular fans. A couple of nights later I was invited to join them at the farewell dinner at a Malaysian restaurant in Sydney. In June Sherbet played their final shows on Great Keppel Island, but I wasn't there.


The final gig of the tour at Rosebud Soccer Club.
The band, roadies, a girlfriend and a wife.

Ian, who headed the road crew, became a dear friend of mine after the tour. He and I stayed in touch with Daryl for a while, even had dinner with him one night, but of course, to quote a Sherbet album, time change... a natural progression. Life is for living, too. Gosh, they were profound.

Daryl had a successful solo career in the late 1980s and Garth became a very successful country music writer and producer.

The other guys drifted off into semi-obscurity, working for music shops (Harvey now works for Maton Guitars in Melbourne) or playing sessions and backing other artists. You can usually see Tony playing bass in the dark wherever John Waters is doing his John Lennon tribute, Living in a Glass Onion.

Fortunately Sherbet have attained an almost "cool" status in the history of Australian pop music. There was a compilation CD released for their 30th anniversary and a couple of television specials aired. The band regrouped on New Years Eve 1998 for an Elle McFeast special on ABC TV, and then played live together in March 2001 at the Gimme Ted benefit for Ted Mulry, a few months before Ted passed away.

And then in sad but celebratory circumstances, another marvellous reunion took place in June 2003 when the original lineup of the band, featuring Clive Shakespeare on guitar, played two songs at a wake/tribute for Wane "Swampy" Jarvis, attended only by industry people. Sherbet played "Cassandra" and "Summer Love" and were damn fine. Garth told me the next day that future reunions were definitely not out of the question.**


Sherbet at the Swampy tribute night, June 2003
Photos by Bob King
| | |
| --- | --- |
| | ** And indeed the great, long-awaited official reunion of Sherbet happened as part of the Countdown Spectacular in September 2006. This deserves a page of its own, so click here for all the details, or on the groovy Countdown montage (by Bob King) on the left. |
PS. There are also some lovely recent photos of Garth on the page about The Making of Songwriters Speak, my book on great Australasian songwriters. (While you're over there, check out the whole page as there are other great photos of great songwriters!)
| | |
| --- | --- |
| And then this. I didn't think I'd ever be adding another paragraph about Sherbet here, but in January 2011 Harvey James died from lung cancer. I had the privilege of doing PR for a fundraising concert, originally planned as a benefit that turned into a tribute concert, Gimme That Guitar! Sherbet played one last time, and some other great artists came along to perform, too. Click on the Sherbet photo, right, to find my page all about it. | |

But getting back to the past... The 70s weren't just about Sherbet, of course. There was ABBA!


What a great view we had

We all went to see ABBA... didn't we? That "We play rain or shine" warning so common on tickets in those days of outdoor stadium events never rang so true as on that soggy night at the Sydney Showground in March 1977. My parents took me and my sister (who was the big Abba fan) and therefore we had to sit back in the grandstand, from where we had a great view of the "ABBA" sign all lit up at the top of the stage, and some ant-like figures in white beneath it.
Going to concerts with the parents wasn't exactly cool, but amid all the Sherbet/2SM mayhem I also had quite sophsticated tastes. Sometimes it was quite okay to have parents who enjoyed civilized concerts and were happy to take me to see someone like Janis Ian (whose Between The Lines was one of the first albums I ever owned) or Australia's very own chanteuse Marcia Hines.
Other than Janis Ian, my earliest LPs included Bowie Pinups, KC and the Sunshine Band and a bunch of K Tel compilations like Super Bad, Rock Explosion and Explosive Hits 74. Yes, I still have them all.
By the end of 1977 I was already becoming quite the concert connoisseur. I had done a lot of 2SM gigs by then, and knew my way around an outdoor concert scenario, portable loos and all.

When The Rockarena was announced, it was supposedly the biggest rock concert ever staged in Australia, with Fleetwood Mac, Santana, Little River Band (who were already having international success), Kevin Borich Express and the Japanese band Creation. The tickets were a hefty $12 and my friends and I all rushed to buy. We also all left school early that day so that we could get to the Showground early to stake our ground as close as possible to the stage.

This was the tour during which Stevie Nicks and Mick Fleetwood decided they had the hots for each other, and Stevie was mysteriously absent from the stage more often than on it, and when she was on stage she was on another planet. Ahh.. the glorious rock 'n' roll '70s. Santana and LRB were very much present, and quite great, by the way. The weather was great, too.
In December 1977 an Australian Music Industry Expo was held at the Hordern Pavillion, with afternoon and evening concerts and the first Australian Music Industry Awards, which were supposed to have more credibility than the TV Week King of Pop Awards. The AMI Awards didn't last more than a few years, but that's another story.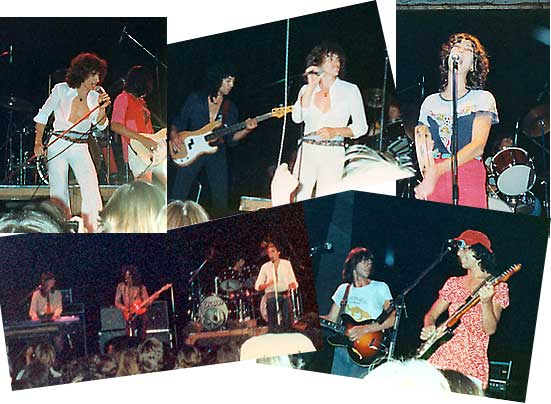 My good buddy Alison and I went along one day for the concert, which featured Hush, the Ferrets and Dragon. It started in the afternoon, and as night fell outside, Alison started to worry about being out after dark. She called her parents who summoned her home. I called mine, who said I could stay. So at the tender age of 15, I attended my first evening rock concert alone. And I never looked back.
In 1978 there seemed to be a flood of international artists playing in Australia, and always in outdoor arenas. Electric Light Orchestra brought their symphonic rock and laser lighting (never before seen in Australia, said the promoters) to Randwick Racecourse on a balmy late summer night in February. They were great. I still think ELO was a great band and A New World Record was a seminal '70s album, and I don't care what anybody else thinks.

| | |
| --- | --- |
| Boz Scaggs, who had been the buzz for a year or so since the release of the magnificent Silk Degrees album, played a couple weeks later at the Showground, and I don't remember much about it but I don't think it rained. I know it did rain for the Beach Boys at around the same time. I didn't see them, nor Bob Dylan, who also played the Showground in 1978. Were you at any of those shows? Let me know, and in particular, let me know how the weather was. | ELO do Rockaria at Randwick |
I was madly busy going to 2SM concerts in 1978, of course, and in February there was the memorable Summer Magic gig starring Little River Band. LRB was the best live band in Australia in the late '70s. I had completely devoured their Diamantina Cocktail album and then, in '78, they released their piece de resistance, Sleeper Catcher.
They promoted it with the "Home Run" concert tour in October (I think they had just returned from a big overseas tour) and I went to see them at Sydney's Regent Theatre. It was one of those experiences that lives in my memory. I'd taken a sickie from school but spent the day at Newport Beach with my neighbours, and then, all sun-glowing and mellow, I took the train into the city and sat in my front-row seat for one of the most mesmerizing concerts I have ever been to in my whole life.

LRB at the Regent, 12 October 1978 with two drummers


McArdle, Pellicci and Birtles in happy times

Little River Band were possibly at their peak creatively and line-up wise in the 1978/79 period. But as with so many successful bands whose trademark was sublime harmony, the internal disharmony in the band was rife. LRB continued in many guises over the years, with John Farnham taking over lead vocal in the early to mid-80s and Glenn Shorrock rejoining in the late '80s for some great tours and a few more albums.

The band pops up all over this site, on my 2SM page, my Variety page, my APRA page, and there is an interview with Graeham Goble in the Writer section on my APrap page, too. Long live Little River Band.
Yes, this is the Chicago zone of this page. Chicago pops up on this site a fair bit, too, with my fantastic interviews with Robert Lamm and James Pankow in the Writer section, and my various concerts and encounters with the guys in the US which you can find out about when I get around to creating the releavant pages of the Jetsetter section. But this little episode pertains to the memorable Australian experience, which took place on 19-20 January 1979.

The Boulevard Hotel was the hot spot for overseas rock stars back in the late '70s, before the Sebel Town House became mandatory. It was school holidays and I was on a mission. Even though other friends had tried to get a glimpse of Bob Dylan or Dire Straits at the same hotel to no avail, I was sure I would meet the Chicago guys. Sure enough, Robyn and I hung out there for most of the day, chatting with the guys, a couple of their (then) wives, members of the tour entourage, et al. Even with my limited 16-year old experience of meeting rock stars, I could tell these were the nicest, friendliest and most approachable guys around.

As to why I was wearing a pink hat covered in ribbons, bows and feathers...? I don't know, I just was.


L-R: Bobby (as he was then known) Lamm,
James Pankow, Deb and Walt Parazaider.
We were all so young.


A fuzzy photo of Deb and Peter Cetera.
Robyn was clearly shaking with excitement.

"Hot Licks" Donnie Dacus with Deb.
He didn't last long in the band.


Deb sandwiched between the drummer boys,
Danny Seraphine and Laudir de Oliviera

Nowadays Chicago is considered an "oldies" band, touring every year around the States playing an almost entirely greatest hits concert. In Australia, where they haven't had a hit since the mid-1980s, very few people even admit to having been a Chicago fan and they are derided as a "dinosaur" band by the media. I wrote a story about my frustration about this which was published in The Australian some years ago. You can check it out here.

Anyway, back in 1979 Chicago was a major attraction and played outdoor stadium shows around Australia. In Sydney they played to 20,000 people at the Sydney Sportsground and I was SO there!!!

The view from front row centre

Robyn and I were the first ones in the Sportsground the next day when the gates opened, and took the best seats in our section – front row centre. A fine position from which to wave and make ourselves known to the guys who, of course, recognized us from the day before! This was one of my favourite concert experiences of all time, for many reasons. I have both an audio tape and video tape of this show, and my screams are undeniably recognizable, especially the ear-piercing one at the beginning of "Just You 'n' Me." If you don't believe me, check it out here (1 sec in):
Bobby (now known as Robert) Lamm above and Donnie Dacus at right. What a great view of those gold lycra pants.
Peter "If You Leave Me Now" Cetera below. Of course he ended up leaving.

Although I was conscious that the absence of Terry Kath, the band's original lead guitarist who had died a year earlier, meant this was only seven-eighths of the Chicago it could have been, I am so glad I saw the band with Peter Cetera, Danny Seraphine and Laudir de Oliviera. It was more than 11 years before I got to see Chicago live again, by which time there had been many changes.

| | |
| --- | --- |
| | The Chicago guys became fans of the World Series Cricket while they were in Australia. They had a play around with some of the Australian team, and even exhanged t-shirts, Dennis Lillee giving them ones that declared, "I'm into cricket – balls and all." Australian Cricket magazine gave it a mention which you can see here. I was a bit of a World Series Cricket fan back then myself, so I was pretty impressed by this, and when I met the guys at the Boulevard Hotel the day before the concert, cricket was one of things we talked about at length. |

On the night of the Sydney concert, during the encore when the band played their extended version of "I'm A Man," the entire Australian cricket team and the World Eleven team trapsed on stage to sing "C'mon Aussie C'mon." It was an interesting merging of cultures.


My first backstage pass



Robyn and I ended up backstage after the show, thanks to the band's stage manager, Jerry Vaccarino, who'd been chatting with us at the hotel the day before. It was my first big gig backstage experience and it wasn't disappointing, not just because all the guys in the band remembered us well and were so friendly, but because I got to meet all the cricketers, which was very cool for me at the time. Jerry turned out to be not so cool when I encountered him again in Sydney nearly 17 years later as the Eagles tour manager. But that's another story.

As for the Chicago boys, who promised they would not stay away from Australia too long, it took them 25 years to come back, and then it was for only one concert at the Melbourne International Blues & Music Festival in February 2004. The only reason that happened was because the festival's promoter, Michael Chugg, got wind of the band's New Zealand tour at that time (yes, the Kiwis were more interested in bringing Chicago down under than the Australians were) and flew them across to Melbourne for the one-off show. I was at that show, and it was surreal to see them playing there, to the wrong audience.

(During their New Zealand tour, Robert Lamm performed a special solo concert in Auckland that I was thrilled to be connected to behind the scenes. And of course I was there, too. You can find out about that here.)

I have been fortunate enough to see the band in concert many times since 1979, in Los Angeles, New York and Hawaii. Eventually when the Jetsetter section is done (famous last words), you'll be able to check out stories and photos from those experiences.

** Update **
Chicago finally returned to Australia for a full national tour in October/November 2010. They co-headlined with Brian Wilson, America and Peter Frampton. I wrote a story about Chicago's long-awaited return to Australia in The Australian newspaper, which you can read here. A full personal Debsite report on what I saw of the tour, my impressions and photos, is forthcoming.

Okay, Chicago zone ends here.

Oh, and a note to Chicago fans far and wide: Please don't link directly to any of the images on this page. I'm afraid you can't copy and reproduce them on other websites, either, without my permission. Thanks!
Linda Ronstadt has always been my favourite female singer. And in the '70s she was the ultimate cool rock chick. One day I saw a clip of her on TV doing "You're No Good" or "Lose Again" or something equally wonderful, using a tambourine with such dexterity that I rushed out to the Palings shop on Pitt Street in Sydney, where you used to be able to buy any kind of musical instrument and great sheet music, and I took home a Linda-style tambourine, which has sinced been shaken by the likes of Daryl Braithwaite (see Sherbet, above) and which still has pride of place in my home.
When Linda came to Australia for the first time in February 1979, her Living in the USA album was riding high and it was a big show outdoors at the Sydney Showground. She was wearing her short tussled hair-do, shaking her tambourine and backed by her great band of LA players – Waddy Wachtel, Dan Dugmore, Russ Kunkel, Don Grolnick and Kenny Edwards. It was very wonderful.
Within a few years, however, Linda had put down the tambo and shaken off her rock chick image, working with Nelson Riddle on the What's New album and two more after that. Linda came to Australia with Riddle and his orchestra, and I managed to grab a couple of front row seats for the April 1984 show at the new Sydney Entertainment Centre, and I took my Dad, who loved it.


Waddy, Linda and Kenny in Sydney, 1979


Linda in Sydney, 1984.
Excellent pic by me on trusty 110mm camera from front row.

Linda has never returned to Australia and I wasn't sure if I would ever see her again, although I followed her career with some devotion over the years. In 1998 I scored the coup of my journalistic career, going to Tucson to spend a day with her at her home, interviewing her at length about her career. You can read the results of that here. I also got to see her perform again in Las Vegas and LA. She is one amazingly beautiful performer.
I was a savvy concert-goer by this time, and I had no hesitation in snapping up a ticket to see Harry Chapin when he came to town in September 1979. He was actually on holiday with his family, and a smart promoter offered him a concert each in Sydney and Melbourne. He had no band, no crew, just him and his guitar and a spotlight. It was truly magical. I had a good seat close to the front but only managed to snap one shot before my camera was confiscated by security.
I am so grateful that I saw Harry and got this one grainy photo. He promised to return with a full band, but within two years he had died in a car accident.
By the time I took these pictures of the Doobie Brothers in 1981 it had become clear that a 110mm camera was probably not adequate to take the kind of pictures I wanted to remember these concerts by.

Nevertheless, it was wonderful to finally see the Doobies in Sydney, and with Michael McDonald still in the band. Very soon after he left and not long after that, the Doobies disbanded.

All these years later, the Doobie Brothers play together regularly in the US, with original guitarist and lead singer, Tom Johnston at the helm. I saw them in California in 1998 and again in 2000 and they totally rocked.
| | |
| --- | --- |
| I think the last concert where I took half-decent photos with a 110mm camera was The Style Council's show at the Hordern Pavilion in August 1985. I remember the audience were very unruly and even though the band's performance was fine, it wasn't such an enjoyable concert. In fact, it was very unpleasant. So much so that I got turned off Paul Weller's music after that. The Style Council were very groovy for a while, but I think in retrospect Weller's work with The Jam was more interesting. | |
The truth is that the 1980s weren't my time in the way the '70s were. I was still going to a lot of concerts, but other than a few great experiences (The Police's first Australian tour in 1980, David Bowie's Serious Moonlight show, Linda Ronstadt's tour with Nelson Riddle and Queen's 1985 visit), everything else just blurred into a hazy musical memory.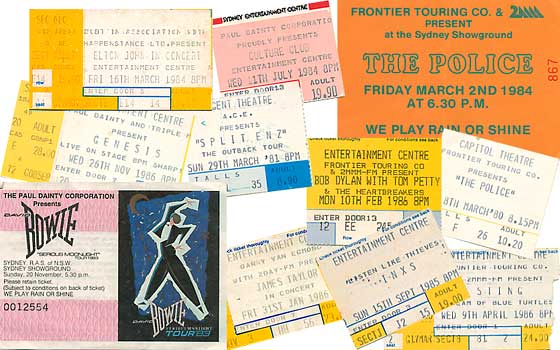 By the end of 1986 I was working for Variety and attending just about every rock concert that came to town – Lionel Ritchie, Eurythmics, Paul Young, The Pretenders, Billy Joel, Stevie Wonder, Bryan Ferry, Huey Lewis & The News, Robert Palmer, Neil Young, Diana Ross, U2, Gipsy Kings, more Elton John, and all the hot Australian acts. Other than the Bee Gees concert in 1989, and the Hilton cabaret shows of Peter Allen and Neil Sedaka, the rest were all just so so.

And it's not that I had become blase, because I will never be blase about music. It just wasn't a magical era. Most of my magical live music experiences from then on were on foreign soil. So head over to the Jetsetter section to find out more.

I don't go to concerts that often any more, mainly because of prices, but I'll always pay for something if it's meaningful to me. There was, of course, the Eagles tour to Australia in 1995 and their returns in 2004 and 2010, which were superb, despite ticket prices upwards of $500! (See here for a bit of info about the 2004 tour). Elton John is always worth the price, and others I've forked out hefty amounts for in Sydney in the 00s have included Steely Dan, Burt Bacharach, Crosby Stills & Nash (well, that's for Brisbane) and of course those Countdown Spectaculars.

I took some fabulous pictures at the two concerts I went to on the 2010 Eagles tour of Australia, so click here to check those out.

I now have a current music blog, not so much mayhem in it, but as this page you're on is most definitely historical, head over to Debbie Does Music to find out what I am seeing and hearing today. The blog will also refer back to choice picks from here and elsewhere on the Debsite.